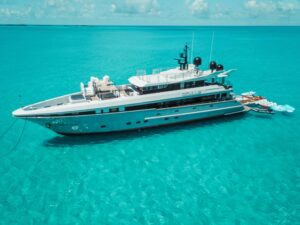 The size of the crew onboard your luxury yacht charter varies based on the size of the boat and your unique needs.  This can range from the captain and steward to other crew members that will attend to the needs of your guests.  While you can charter an uncrewed yacht, there is an added benefit to having these experienced crew members aboard to make sure your trip is perfect.  The crew aboard a yacht have their own sleeping and living quarters, ensuring that they have their own private area separate from the guests.  Crewed yachts will have a clear designation between the sleeping quarters for guests and those for the crew onboard.  This ensures that your guests have private quarters, while still enjoying the benefits of an onboard crew.
Crew Cabins on a Luxury Yacht Are Seldom Even Seen by Guests
The crew's sleeping cabins are often on the main deck of the luxury yacht charter, making it easy for them to come and go as your guests' needs require.  These are commonly at the rear of the deck in an obscure location that isn't accessible to guests.  This way the crew can have an area to call their own, while still being easily able to meet the needs of your guests.  A crewed yacht, with these highly professional and trained staff, can ensure that your yacht charter will go off without a hitch.
Sleeping Quarters for Guests Frequently Located Below Deck, Allowing for Privacy
The sleeping area for guests aboard a luxury yacht charter are frequently on the lower level of the private boat, in an area designated solely for guests.  This can range from spacious master suites to smaller accommodations for younger guests and single individuals.  By having this area to yourself, you can ensure that your guests will have a private, secluded area while at sea.  The exact sleeping accommodations vary from boat to boat.
If you are looking for a private yacht charter, consider the size of the crew and the number of guests that your trip will need to accommodate.  When opting for a crewed yacht, rest assured that the onboard crew will add plenty of value, making sure your needs and those of your guests are always met.