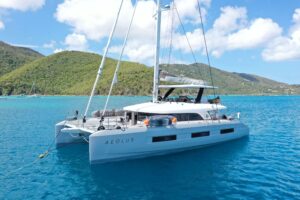 The British Virgin Islands (BVIs) comprise four main islands and many smaller ones in the Caribbean.  This area is best known for its coral reef lined beaches and white sand, making this a favorite destination for luxury yacht charters.  The BVI is excellent for diving and snorkeling with its clear turquoise water and active sea life.  A private boat allows you the opportunity to take in the beauty of the entire area, even seeing all the main islands that comprise the BVI.  From snorkeling adventures to docking near the sandy beaches, this is a trip aboard a luxury yacht that should not be missed.
Experience All of the Islands that Comprise the BVI
This area is made up of sixty remote islands, many of which are only discoverable by boat.  For a true sailing experience, you can travel the entirety of the British Virgin Islands by private charter, sailing to even these more remote destinations.  These off the beaten path locales feature hidden marine coves, bays, and tucked away snorkeling spots.
Each of the larger islands that comprise the BVI have their own unique attractions that you will want to make sure you see.  Necker Island spans 74 acres and is brimming with coral reef.  Best known as the home to Sir Richard Branson, Necker Island has a variety of tours available for visitors.
On the island Virgin Gorda visitors can take in the beach area that has been uniquely created by volcanic craters that formed caverns and clear water pools.  Crawling through the gigantic boulders will reward you with the surrounding streams of water flowing with the boulders surrounding you all around.
Jost is the smallest of the four islands making up the British Virgin Islands.  This party island is known for its watering holes and signature rum cocktails.  Beyond this, Jost Island is one of the best snorkeling destinations in the entire Caribbean, making it a can't miss attraction.
There are many attractions to see on the BVI for visitors looking to experience a vacation that is like no other.  Navigating the area by luxury yacht charter is one of the best ways to take in all these sites, making a custom itinerary that is best suited for you.