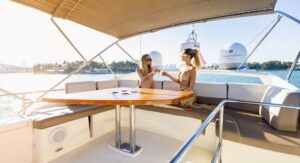 There are so many options when choosing a luxury yacht charter, with each boat having its own unique style, features, and onboard amenities.  To choose the ideal boat for your adventure you will first want to determine the type of yacht that you are looking to charter.  Are you interested in a sailing or power boat and how many guests will be onboard? Do you want a crewed yacht charter, and if so, how many crew members would be ideal?  This will help to narrow down the selection.  Another important consideration is the trip duration and destination.  Consider your budget for the trip to find the ideal private yacht charter for you and your guests.  Each boat has a unique set of amenities for guests.  Make a list of your must-haves and would-likes to narrow the charter search down even more.
Choose a Private Yacht that Has the Onboard Amenities that You Want
Each luxury yacht is unique in the amenities that are available to guests.  From comfortable deck-side seating to Jacuzzi hot tubs and a fully stocked bar, choosing your luxury yacht can be made easier by identifying those onboard amenities that are most important to you.  Beyond this, many private charters come fully equipped with water toys that guests can enjoy during their time at sea.  This may include water skiing, Sea-Doos, kayaks, fishing gear, and other toys to add to your time onboard.
Sleeping Quarters is Also a Factor When Choosing Your Yacht Charter
The size of the yacht and onboard sleeping quarters will determine how many guests the boat can accommodate.  Beyond this, each yacht is unique in the sleeping cabins.  This can range from spacious master suites with plenty of room to bunk beds or twin beds side by side that are perfect for younger guests.  Some yacht sleeping cabins even offer a window view to give you the ultimate experience while on the open waters.
At Cruzan Yacht Charters we are experienced at helping guests find the perfect yacht for their trip.  After learning about what features are most important to you and other specifics of your trip, we are happy to recommend some of our yachts that will be the best fit to accommodate your guests.